Throughout our COVID-19 closure period, our patients' health and safety remain the top priority. As such, we have developed a set of emergency protocols to guide you through this time.
First and foremost, we are committed to making ourselves available to you in the case of true emergency, despite the closure period, both for either emergency care or advice as needed. We are committed to providing you with helpful information for taking care of your braces, appliance, or Invisalign while our offices remain closed.

Please note – broken brackets or poking wires are not considered an emergency, and can be managed at home through the following self-care guide.
General soreness…
You may experience sensitivity or soreness for a few days after you first get your braces and/or following your regular appointments.

We recommend a soft diet until you are comfortable to chew.
The cheeks, lips, and tongue may also become irritated as they become accustomed to the hardware surfaces. Adding wax to the wires or brackets in the area of soreness will help the tissues heal. Warm salt water rinses can also be comforting. Dissolve one teaspoonful of salt in eight ounces of warm water, and rinse your mouth vigorously.

The most common possible problems with braces include:
WIRE IRRITATION
LOOSE BRACKET:
If your appliance (herbst, palate expander, carriere appliance) has come loose and/or is causing substantial pain, please contact our office.

If your wire has broken or moved in such a manner that it is puncturing your cheek and cannot be managed with wax alone (note: a simple poking wire can be self-managed with instructions provided below) please contact our office.

If you have experienced dental trauma while wearing braces, which require assistance from your dentist and Orthodontist to treat, please contact the office.

If you are experiencing the signs of infection, as a result of your Orthodontic appliance (including: pain, swelling, fever), please contact the office.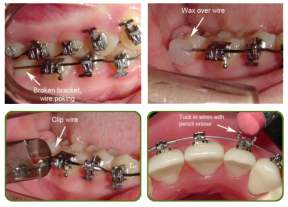 If the wire is protruding past your back bracket, you may use a pencil eraser to push the wire down or place a piece of wax over the poking area . If this is not helping, you can try to clip the offending part of the wire using small scissors or clippers that have been washed in warm soap water and disinfected with alcohol.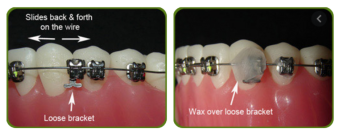 If the last bracket falls off and is not attached to the wire, you may wait until your next appointment to have it repaired. If your bracket is still attached to the wire, you can leave it in place and put wax on it.
Orthodontic Emergency Protocols
PLEASE READ FULLY: contact us in the case of emergencies, as outlined below:

The following are tips for problem solving some common Orthodontic concerns:

IN CASE OF EMERGENCY, PLEASE CALL (905) 844-3456 OR EMAIL dr.christine@hibberdorthodontics.com